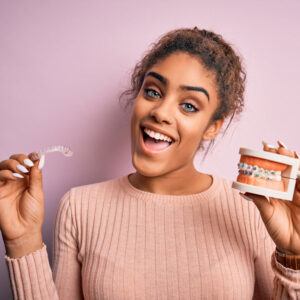 You've finally decided to invest in straighter, healthier teeth, but now you're confronted with a personal choice: which is better, braces or Invisalign? Ultimately, you have the final say in the kind of treatment you want, especially one that will be a part of your life for almost two years. However, speaking with your orthodontist, weighing the pros and cons, and understanding which treatment is best for you is ultimately your responsibility as well. Use this article as a primer when deciding between Invisalign vs braces.
What Are Braces?
Both braces and Invisalign are FDA-approved systems for straightening teeth and aligning a crooked bite, but braces have been around much longer. The process of getting braces includes metal brackets that are bonded to teeth with food-grade cement and then attached to an adjustable wire used to move teeth into the desired position over time. Sometimes orthodontists use other instruments like rubber bands or headgear to achieve different results, but the end goal is the same—a healthy, beautifully straight smile. Every case is different, but braces usually take between 18-24 months to achieve the desired result.
What Is Invisalign?
Invisalign works differently than braces by prioritizing discreet treatment with its clear plastic aligners. Your orthodontist will make a mold of your teeth, which will then be used to create a set of clear aligners that are meant to be worn over your teeth. These aligners are basically invisible when worn, and gradually move teeth into position throughout treatment. Invisalign is the leading brand of clear aligners and has achieved substantial results with patients who would like straight teeth, but don't want to deal with the appearance or certain restrictions of metal braces.
Braces or Invisalign: Which Is Better?
It's tempting to ask this question, but perhaps the more realistic answer is that braces and Invisalign are completely separate methods to achieve the same goal. The most important factors in choosing between braces vs Invisalign are your comfort levels, priority for treatment, and cost threshold. With this in mind, let's take a look at some of the obvious differences between the two.
Aesthetics
Invisalign offers discreet treatment through the use of its clear plastic retainers, while traditional braces are rather obvious by comparison. While aesthetics aren't everything, Invisalign can be the more attractive offer to adults who often find themselves in more professional gatherings or teenagers who may feel self-conscious about their treatment.
Invisalign vs Braces Cost
Traditional braces are almost always the more cost-effective method of achieving a straight smile. Invisalign uses advanced 3D modeling and construction software and techniques and produces entirely custom aligners—sometimes as many as 20 different sets throughout treatment—so it can often be more expensive. Metal braces have a single application phase and are made of less expensive materials, meaning that they are an economical and effective option.
Effectiveness
Invisalign aligners can be taken out—and in fact, should be taken out when eating or drinking—meaning that the amount of time in which they are in contact with your teeth can be substantially less than the same treatment time with metal braces. As such, patients who are forgetful or uncommitted to wearing their aligners will not see results in the time frame they might like. Invisalign is also not recommended for extremely crooked or malformed teeth and is advised only for minor straightening.
Metal braces work constantly from the time they are applied and are suitable for even the most extreme cases. Braces use more force to move teeth over the same amount of time, meaning that a perfect result can be achieved relatively quickly.
Maintenance
Invisalign aligners are usually changed out every four to six weeks and require no maintenance other than regular cleaning. However, Patients must be careful not to lose or otherwise damage their aligners while they are not being worn. Because Invisalign can be removed, patients also don't need to abide by any special dietary restrictions or wear protective mouth gear (beyond what is typical) when playing sports or doing physical activities.
Metal braces require adjustments every four to six weeks, after which some patients might feel discomfort or pressure as they get used to the new fitting. Braces also require special cleaning to avoid staining the dental cement and the accumulation of food particles which might cause decay. Patients with braces should also refrain from eating foods that are too chewy, hard, or sticky as this can compromise the dental cement or otherwise be difficult to remove from the dental wire.
Making Your Decision Between Braces vs Invisalign
You should depend on your orthodontist to provide you with the information about your specific needs when it comes to which treatment will be better for your smile. It may be the case that you require a more intensive treatment than Invisalign can provide, or Invisalign works better for your lifestyle than metal braces. Find a trained, experienced orthodontist to help you weigh your options, and then sit back and smile because you're one step closer to the straight, healthy teeth you're dreaming of. If you're considering Invisalign or braces in Sparks, elevated Orthodontics can help you make an informed decision. With years of experience and friendly, knowledgeable staff, our clinic offers quality orthodontic services in Sparks for whatever feels right for you. If you are looking for an orthodontist in Reno feel free to visit our another clinic located in South Reno. Call today to schedule your appointment and let us help you smile wide!