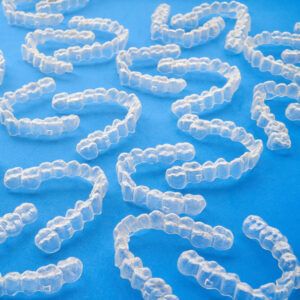 Everyone can relate to wanting a straighter, healthier smile, but traditional braces can be a big financial and time investment—not to mention the imposition they can have on your daily routine. Invisalign treatment is the original clear aligner system for straightening teeth. For patients wondering "Why Invisalign over braces?"Here's a list of the top seven benefits of Invisalign you can expect with your treatment.
What Is Invisalign?
Invisalign uses a series of clear, plastic aligners that gradually reshape your smile in about as much time as traditional braces—or even faster in some cases! The aligners are made from 3D scans taken by your orthodontist and must be worn for most of the day and night. The biggest difference between braces vs. Invisalign comes from the discreet aesthetics that come from clear plastic instead of metal brackets and wires, as well as the ability to remove your aligners at will, meaning you can smile wide at any stage of your treatment and no one will know you're straightening your teeth!
Can Anyone Use Invisalign?
Invisalign is a great choice for patients of any age, especially younger children and teenagers who may be more self-conscious in social situations with traditional braces. However, Invisalign is more suited to subtle teeth straightening and cannot treat advanced orthodontic issues like serious bite misalignment, mishappen teeth, severely rotated teeth, etc. Your orthodontist can help you find treatment for these advanced problems, but most patients with teeth that are crooked, crowded, or noticeably out of place are candidates for the Invisalign system.
The Benefits of Invisalign Treatment
Invisalign has plenty of benefits over traditional metal braces. Some of the most common ones are:
Discreet
Plenty of people who want straighter smiles struggle with the "brace face" aesthetic—especially when the typical treatment time for metal braces is around 2 years! Invisalign offers a solution for the image-conscious with a series of thin, clear plastic retainers that are virtually invisible to the naked eye. Invisalign patients can smile wide for photos, meet with friends, and generally live their lives without feeling everyone is staring at the metal in their mouths.
Easier to Clean
Because traditional metal braces require brackets that are bonded to the teeth, they require special techniques and equipment to brush and clean properly. Without proper cleaning, braces can create cavities, stains, and other detrimental effects on your teeth. Since Invisalign aligners can be removed at will, you don't have to change anything about your daily dental care routine! Brush and floss normally, then soak your retainers in some diluted hydrogen peroxide occasionally to keep them clean.
Safer Than Metal Braces
While metal braces aren't inherently dangerous, they can make physical activity like playing sports or accidental falls much more perilous due to the metal wires contacting the soft tissues in your mouth. It only takes one unfortunate collision to turn your smile straightening device into a dental emergency! One of the main benefits of Invisalign is that it can be removed during physical activity, and even if you forget, the aligners' smooth exterior poses no danger to your mouth in the event of an accident.
More Comfortable
Invisalign is designed to help you forget that you're wearing anything on your teeth at all. Unlike braces, which can feel annoying on the inside of your lips or against your tongue, Invisalign has no rough edges or sharp corners to catch on to. Invisalign can (and should!) even be worn while you sleep, meaning that you get the same results with far less inconvenience to your daily routine.
Eat Whatever You Want
Anyone with metal braces also knows that there are whole lists of foods and drinks that you shouldn't enjoy while undergoing treatment. Corn on the cob, popcorn, gum, caramel, chewy candy—all of these can stick to the spaces between your brackets, wire, and teeth, causing potential areas of decay, bad breath, and more. With Invisalign, you just need to take them out and place them in their handy travel case, and you can go on eating whatever you feel like.
Less Time at the Orthodontist
Invisalign clear retainers are created in phases to gradually shift your teeth into position over time. With typical Invisalign treatment, you'll need to get new aligners once every six weeks, and even then, all you need to do is pick them up from your orthodontist and check the fit. Metal braces, on the other hand, typically need to be readjusted once per month by your orthodontist, making your busy schedule even more packed.
Just as Effective as Regular Braces
Perhaps one of the greatest benefits to Invisalign is that there's no trade-off in effectiveness! Invisalign must be worn for a certain amount of time throughout the day to consistently straighten your smile, but as long as you meet these basic requirements, Invisalign treatment and traditional metal braces take about the same amount of time to work. This means you can have all of the benefits of Invisalign with none of the drawbacks.
Here Is How to Start Your Invisalign Treatment Today
If you've been thinking about starting treatment, Invisalign can help you get the straight, healthy smile of your dreams. Start by making an appointment with Elevated Orthodontics, the number one orthodontic dentist in Sparks, NV, and ask about getting Invisalign. From there, you'll meet with one of our experienced dentists for a preliminary consultation to discuss the results you're looking for, a timeline of treatment, and price. If you are a good fit, you'll be able to start your Invisalign treatment right away!